Clark Goldberg London is a renowned handyman firm that offers moderately priced painting services in the UK capitol. We are open seven days of the week and we are always prepared to respond to emergency bookings.
We can handle any painting job
Our London team is fully equipped and well trained to carry out all types of painting jobs as part of a home renovation, refurbishment or a rejuvenation process. We can effectively paint various surfaces and areas in your house including:
Windows and doors
Cupboards and cabinets
Floors and walls
Our skilled and friendly staff can also strip paints, fill in cracks on walls and hang wallpapers. It should also be noted that the decorating and painting services we provide are suitable not only for interiors but also for exteriors. Hire us and we will organise an on-site inspection, which will help us to assess the scale of the job more precisely and to give you a custom-tailored quotation.
Our painters are neat and tidy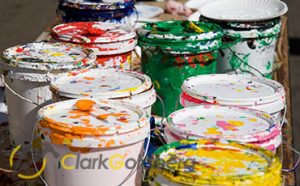 We, at Clark Goldberg, can assure you that we will not leave a mess in your home. Our painters and decorators will place drop cloth around the working area to protect your furniture and possessions from paint spills, smears and drips. The company's dedicated professionals wear protective coveralls and they follow all quality and safety standards. That includes thoroughly cleaning after they have finished the job and carefully collecting all the waste they have accumulated during the work process. We also do our best to use products are more eco-friendly.
We offer an exceptional level of detail
Since we, at Clark Goldberg, provide trusted painting services in London that are carried out in the most meticulous and risk-free manner possible. We will not offer you anything short of perfect and once the job is finished, we will instruct a diligent handyman in London to inspect the final quality.
Our company works with highly experienced and remarkably thorough professionals. We do our very best to offer each client a comprehensive painting service in London. That is why we are able to paint, spray or stain a wide range of surfaces, furniture pieces and etc.
One thing that is often said about London is that it should be perceived as a place made up of many cities, rather than one city. There is some truth in that since the English capital consists of over 30 boroughs which have their own suburbs, schools, landmarks and even governments. The biggest of them in Greater London is Bromley.
London is home to some of the most visited museums in the world. Among the most impressive of them is the British Museum. It is set in Bloomsbury and, with a collection of 8 million works, it ranks as one of the biggest on the globe. The museum was opened in the mid-18th century.