HandyMan London, among other services, offers furniture assembly and disassembly. Assembling furniture can be a complex and time-consuming task and the time will come when you will need assistance in getting this task done. You can rely on Clark Goldberg London to construct your furniture for you. According to the requirements of your furniture assembly and disassembly, our experienced and skilled technicians will your furniture together correctly with no stress in a timely fashion.
What we offer
In a modern world where people buy furniture pieces in a box that need to be assembled at home, a professional and experienced company that provide a range of services including furniture assembling is more than needed.
We have experienced and skilled staff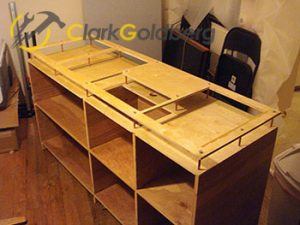 The London team of Clark Goldberg can assist you and take the burden of furniture assembly off your shoulders when contracting the furniture is concerned. Our experts will help you assemble complex pieces of furniture that are challenging to construct, including desks, book shelves, futons, IKEA furniture, and other. For furniture construction, you can count on our hardworking and CRB checked team of technicians.
London  clients can count on us for assistance. We will meet your requirements and provide assembly/disassembly service at reasonable price. Avoid hassle or any risks of personal injuries and turn to handyman hire in London to take care of your furniture and assemble/disassemble it.
Cheap furniture assembly and disassembly in London
The thing that makes our reliable furniture assembly and disassembly service in London so irresistible is the fact that it is very reasonably priced. We, at Clark Goldberg, will only let a vetted and qualified handyman in London handle your furniture pieces and we will also offer you a free no-obligation estimate.
You can hire us to assemble and disassemble your furniture on the same day without having to worry about the final price or the quality of the service. We always provide our clients with a 100% satisfaction and a safe assembly and disassembly of furniture in London.
Fully equipped repairman in London
We believe that a company is only as good as its technical capacity and this is why we invested heavily into the best instruments. Moreover, we have the policy of frequently upgrading our tools with their newer and better counterparts. In many ways, it is because of our excellent equipment that we are able to conduct quickly and efficiently London furniture assembly and disassembly projects without any complications and costly delays. You can learn more about us by exploring our website in full.
As the capital of England and the United Kingdom, London is an amazing place that offers world class tourist historic and cultural attractions, including Big Ben clock tower, Buckingham Palace, Paul's Cathedral, The British Museum, and many other.
London consists of 32 boroughs and the City of London. The latter functions as both a county and a city. In addition to that, it is one of the world's most important financial districts. Greater London covers more than 1,570 square miles of land, making it one of the biggest cities in Europe.
London is presently the most visited city in the London. This is because it home to numerous internationally known landmarks and more importantly four UNESCO World Heritage Sites. The Tower of London is perhaps the most famous of the four. It was built by William the Conqueror during the late 11th century and today houses the Crown Jewels of England. It lies in close proximity to Tower Bridge, which is another prominent local structure.