Are you annoyed by your flickering lights? If you are, know that we can solve your electrical issues in a quick and efficient manner. We are certified and seasoned repairmen and we provide handyman electrical services across London of world class quality.
Complete electrical system maintenance
We have the necessary instruments and expertise to replace faulty wires and make sure that your property's electrical system is functioning at peak efficiency. You can also use our London electrical services to:
Install thermostats
Mount lighting fixtures
Fit built-in kitchen appliances and set electronics
Enhance your current system
Make your property more energy efficient
Our electricians are skilled and highly qualified specialists who will not only cover all your demands but also provide you with electrical services which will go above and beyond your expectations. You satisfaction is one of our main objectives, so you can rest assured that we will do everything within our power to meet all your requirements for excellence.
We are constantly at your disposal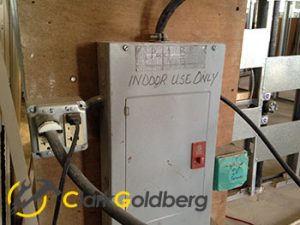 We provide contract electrical services in London which means that you can entirely delegate to us the maintenance of your property's electrical system. Our employees will come on a regular basis and make sure that everything is working within proper parameters. The checkup schedule will be drafted to suit your personal agenda and can be adjusted periodically in dependence of your needs.
You can learn more about our company and the numerous handyman repairs in London that Clark Goldberg provides by exploring our website or contacting us directly by telephone, e-mail or chat. Know that we are eager to work with you.
We are base in London, the capital of the United Kingdom. The city has an estimate population of 14 million (metropolitan area included) and is one of the world's financial, touristic and cultural hubs. It is also one of the most visited places in the world as it is the location of numerous internationally known landmarks.