Our company's mission is to help you make and maintain your home the place of your dreams. In addition to a variety of handyman services in all postcodes of London, we offer a dedicated decorating service that is going to help you make your house or apartment (or even office space) look exactly the way you always wanted it to.
Interior decorating done right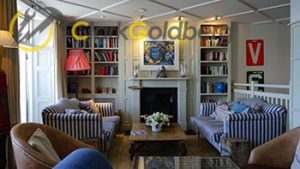 Our team consists of interior designers who have years of experience providing top noItch decorating services in London to domestic and commercial clients alike. No matter whether we supply the ideas and materials, or they come from you and you count on us only for expert opinions and help with the execution of the project, we are going to stand by your side at all times. All you have to do is pick up the phone and make a reservation.
Count on us to:
Develop a plan for the interior design of your whole property
Estimate the needed materials and costs
Decorate just one room or part of your house/apartment
Be ready to offer advice and assistance at all times
We are here for you at all times
We usually work on a very flexible schedule and are able to finish even the most complex decorating jobs in no time. However, it is a given that we will work until the results achieved satisfy you. From picking up the right paint colour for the walls in the living room to developing an individual interior design specifically for you, count on us for everything.
London is a chic place and one of the most prestigious cities in the world to live in. The capital of England was founded as a Roman military camp in the first century. Today it is a major administrative and commercial centre, as well as a tourist destination with no match in Europe.